The Alternative Board method has been proven a success in
over 21 countries world-wide.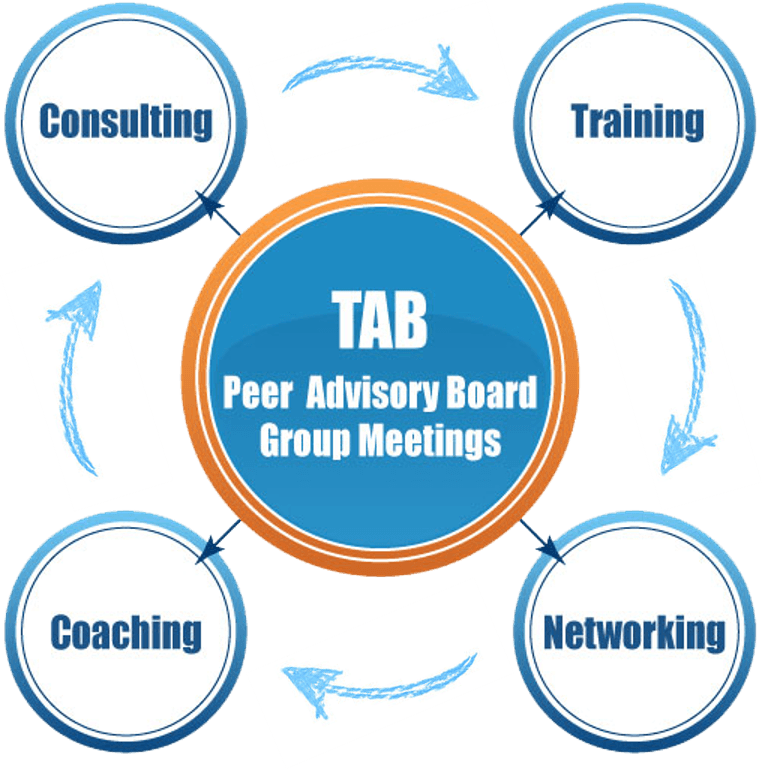 TAB Board Meetings
Our Board Members meet with other TAB Board Members, along with their TAB Facilitator-Coaches, to roundtable their challenges and opportunities in an advisory board setting.
Coaching
TAB Board Members take advantage of monthly coaching their TAB Facilitator-Coach.
Consulting
We have the optional service of consulting which many franchisees offer, taking further advantage of their own areas of expertise. 
StratPro
Stratpro is a strategic planning process developed by TAB utilising the Business Builders Blueprint tool
Training
There are three different management development training programs, optional to executives and other managers.
How Does TAB Help With Sales?
Since conception, TAB has prided itself on developing and testing marketing strategies and tools to ensure effectiveness before rolling out to franchisees. This means that each TAB Business Owner (TBO) can directly benefit and build their business. Starting from an Integrated Membership Acquisition Programme of a wide range of marketing approaches and tools, to a tested membership-sales process, our TBOs approach business development strategically and with intention. New member acquisition training starts in the classroom, with instructive, interactive discussions and play-throughs. Utilising our Field Support Training Programme, TBOs get to apply this learning with a trainer by their side for demonstration, coaching and encouragement. The experienced trainer will accompany the TBO for both on-site and virtual membership sales conversations, and events. Our TBOs have had the following to say about their sales support:
"My Field Support Trainer was the consummate professional and a true craftsman. It was a pleasure and challenge working under his direction. He didn't let me get away with any sloppiness in my presentation or wording. He made me better." TBO, Texas
"The Field Support Trainer's knowledge, experience and history with TAB was extensive. Also, he helped me to take TAB's system and adapt it slightly so I sounded more authentic."
TAB New Jersey
"The Field Support Trainer had a lot of experience and knew how to transmit it and was honest. He has mastery in member acquisition process including Discovery and RFA meetings as well as sample boards and Circle of Influence events."
TBO, Spain
"The Field Support Trainer was a walking encyclopedia of 'TAB How-tos', eager to share his knowledge in a positive and constructive manner. His ability to identify issues and opportunities is way past mastery." 
TBO, South Africa
TAB Marketing develops the strategies and tactics that get TAB business owners in front of key target prospects.
Being Prepared
Collateral
Website
LinkedIn profile
Lead list
Awareness/Branding
Sending eTips
Promoting whitepapers/
webinars
Community sponsorships
Business talks and presentations
Public relations
Lead Generation
Referral marketing
Networking events
LinkedIn prospecting
Advertising
Digital marketing
Mass Marketing
Building a killer list
Telemarketing
Email marketing
Direct mail
Follow-up calling and emails
Premium Marketing
Building a premium list
Drop-ins
Email marketing
Owner-to-Owner calling
Direct mail
Dimensional mailers
Circle of influence
Special offers
Strategic partnerships
TAB's training programme gives TAB Business Owners confidence and competence in recruiting new Members, and setting up their TAB Boards. In-depth training on how to deliver ongoing value utilising the full range of TAB services to ensure long term member retention. The 8-day initial training course will see the home office team guiding you through the essential areas and systems for:
Marketing for new TAB Members
Interviewing and closing new TAB Members
Using the full range of TAB tools
Running coaching sessions
Strategies for Board composition
Initial training is also followed by up to 8 days of in market support, which can be completed virtually if required, to help new TAB Business owners accelerate their learning and success. We are committed to ongoing learning, so for us training doesn't end after 3 weeks, or 3 months or even 3 years. It never ends! At any time, you are able to repeat your initial training programme, at no additional charge.
TBOs also gain all of the incredible content we provide TAB Members, such as webinars and seminars on leadership.
What About Ongoing Support?
It doesn't end after your training, we provide unmatched support throughout your membership. In fact, it just doesn't end!
Field Support Training
Telephone support is offered daily for the first two weeks after field support training to aid the process
Ongoing Support
6 months of support provided after field support training to keep you focused on Member recruitment
Peer Board Meetings
Peer Board Meetings occur monthly with your fellow TBOs to share experience and knowledge
Group Coaching Calls
Group coaching calls weekly on Member acquisition and bi-weekly Member retention.
Conference
You're invited to annual International TAB Franchise Owner Conferences.
On top of this, the TAB Home Office handles all Member invoicing and debt collection for you! It also invests heavily in marketing TAB to attract leads.
This gives you the time to focus on building your business and doing the work which you love most; helping our
TAB Members grow.
StratPro: Strategic Business Planning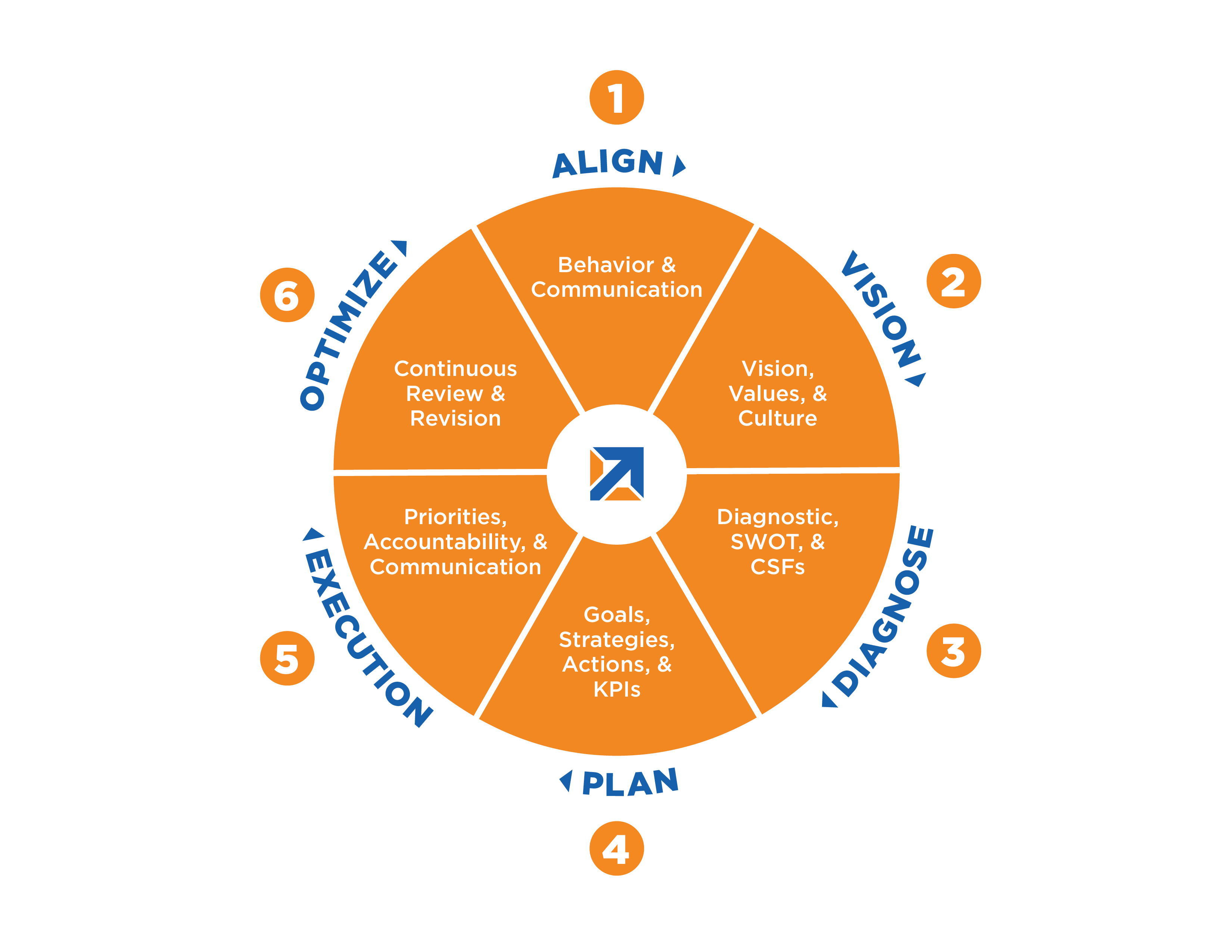 Operating a business without a strategic plan is like trying to drive from the passenger seat. Strategic planning puts you in the driver's seat. It's also a roadmap which navigates a company towards its goals, and that informs leaders of oncoming roadblocks. A business without this control is far more likely to get lost, or turned around.
This is why The Alternative Board developed StratPro. It is a strategic business transformation process, work more closely with organisations and generate more revenue for your TAB business.
Business Builder's Blueprint
After three decades of experience working with small business owners, TAB has brought this real world experience together in the development of our Business Builders Blueprint tool. BBB translates our experiences into a strategic process that is simple, approachable and appropriate for businesses of all sizes.
Ensures the business owner's personal vision is aligned with the business vision.

Drives business owners to work towards a long term company vision and take a strategic approach to achieving it.

Both business owners and employees are held accountable.

Helps allocate business financial and human resources for optimum performance.
Builds alignment between management and synergies within the business. 
Introducing TAB Connect; the ultimate business network tool. It's made up of thousands of TAB Members from around the world, committed to helping each other reach business goals and navigate challenges. Our Members often use the TAB Connect network to gain invaluable insights from peers in more than 20 countries. Why reinvent the wheel when someone else out there has no doubt confronted, and conquered, a similar business problem.
We believe giving is better than receiving, so you will also be able to contribute to other TAB Connect Members challenges in an online Members-only collaboration group. Members never worry about being the smartest in the room (if they were, they'd have to find a new room)! As a Member, you're not expected to know it all. What's more important is that your unique experiences add to the shared knowledge.
Up for a chat? Contact TAB and experience the business owner networking model and TAB Member collaboration at its most successful.
TAB Connect is now available as a mobile app!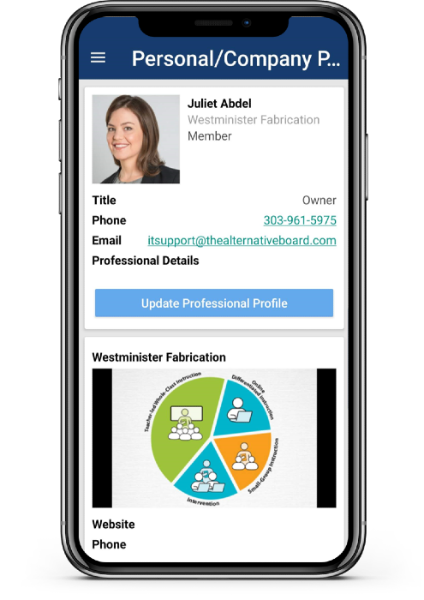 "We are a great community and if I need any advice, I am feeling low or I need gee-ing up, I just pick up the phone and talk to any of the other franchisees and I am good to go again."
– Ivan Carlse , TAB Business Owner, Sunshine Coast South

"The Alternative Board provides the processes and back office support which you often lack when you are alone and starting your business. "
– Willem van der Merwe, , TAB Business Owner, Logan

"TAB is not just a name, there is a very significant infrastructure behind the name both in Denver and here in Australia. There is a lot of support for someone who wants to set up their own business and it is real."
– John Sweeney, TAB Business Owner, Ryde-Parramatta

"I was interested to become part of TAB because I felt there was real synergy with my values around helping business owners and it gave me a better framework to be able to do that."
– Mary Stevenson, TAB Business Owner, Townsville Region

"
Adopting the principles within TAB and making sure you are implementing the affects your own business as well.  You cannot help others be more organised if you yourself are not so it has been a fantastic learning exercise for me to adopt those principles before I ask others to do them,
"
– Abbas Muhajer, TAB Business Owner, Brisbane South
"I saw all the tools that TAB had and thought why reinvent the wheel when it is already there. We get to see people grow in both their business and personal life and for me that is a big tick."
– Crystal Petzer, TAB Business Owner, Pittwater